Pixel Art Enemy Ice Elves
A downloadable asset pack
These are some of the first enemies I made for my first game, Volkstein. That project was doomed to failure, like most 1st time games, but I did enjoy making these enemies. There aren't a ton of animations for them, and the animations themselves aren't the best, but this is for free. Do what you like with them. Included are:
Elf Bulk: Big guy with 3 animations. Idle, Walk, Hurt.
Elf Drone: Standard enemy with a sword. The sword is included but not attached as I'd found out how to do that in my game. Idle, Walk, Attack, Jump.
Elf Magic: Old man wizard guy. He only has two animations as his magic ball was done separately. Idle, Attack.
Elf Shooter: Another standard enemy, this one with a rifle. Idle, Walk, Jump.

THE SAMPLE BELOW IS JUST A FRACTION OF THE ACTUAL ANIMATIONS INCLUDED.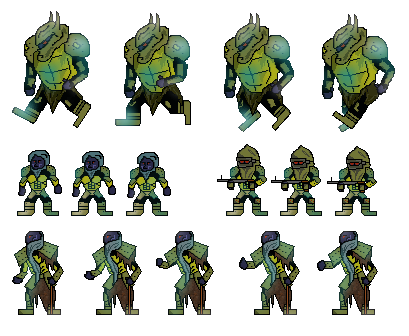 Download
Click download now to get access to the following files: